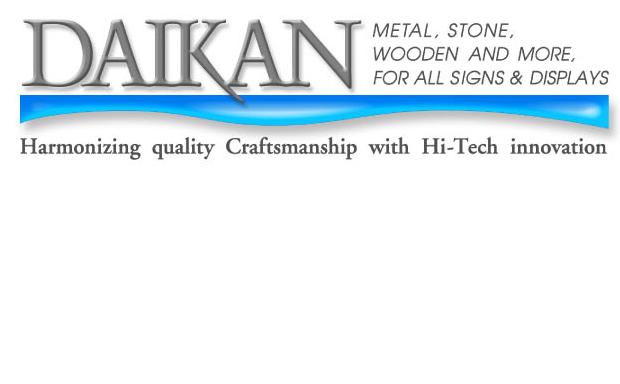 The Ultimate Choice For Your Dreaming Color!
Daikan Co.,Ltd.
ADD:3-1-7 Sangenya Higashi Taisho Osaka 551-0002 Japan
TEL:+81 6 6551 2020
FAX:+81 6 6551 0879
URL:www.daikan.ne.jp
EMAIL:overseas.dept@daikan.ne.jp
Daikan Co. Ltd. is one of the world\\'s leading sign manufacturers, located in Osaka, Japan. We have been designing and manufacturing many types of signage including metal, cast, plastic, wood, stone and others for 45 years using our experience and unique techniques. \r\nWe offer almost every other kind of signage solution as you will find on our website. We import some products, but the majority we make. Indeed, it is our craftsmanship, which is the source of our greatest pride. It is what underlies our slogan : \\"Harmonizine Quality Craftsmanship with Hi-tech Innovation.\\"